Fukushima Medical University Hospital

The origin of Fukushima Medical University dates back to the 1870s. It underwent a number of difficult times, including abolishment of the school. However, its establishment as a public medical university was finally approved in 1952, when the university hospital was also founded, thanks to the efforts and support of the staff and people in Fukushima.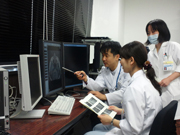 It serves as a general hospital with 39 clinical departments and 778 beds, offering advanced medical care. The average numbers of inpatients and outpatients per day are 570 and 1,579 in 2022, respectively, which represents our popularity with the people in Fukushima. We will continue improving our service to meet people¡Çs diverse medical demand and needs.
Basic Philosophy
We accommodate public needs with excellent medical care.
All staff are united and committed to helping people maintain their health and overcome disease.
Basic Policy
We provide patients with medical care that meets high ethical standards and is based on respect for their lives, rights and privacies.
We provide the most advanced medical care that meets the individual needs of patients.
We produce genuine, competent healthca re professionals who will support the future of the people in Fukushima.
We are committed to the collaboration with the local community and determined to create innovation that will lead to better medical service.
We benefit people¡Çs health locally and globally with our accomplishments in medicine.
¡ü Organization (to ¡Èabout FMU¡É)