School of Nursing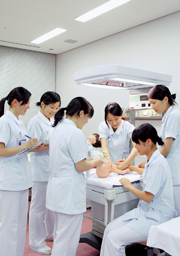 The School of Nursing was established in 1998 with the aim to develop professional nurses who can play an active role in diverse medical settings. Today, professional nurses are expected not only to assist doctors but also to help improve the quality of life of patients and to exercise leadership in the prevention of diseases and the after-care of patients. The Graduate School of Nursing was established in 2002 with the aim to produce nurses who have highly specialized nursing skills.


¡ü Organization (to ¡Èabout FMU¡É)
Educational Philosophy
We encourage students to form a rich humanity, understand dignity of life and respect human life. We also prepare students to become nursing professionals to help people exercise their own ability to maintain health. Furthermore, we are determined to contribute to the development of nursing through research, and to produce nursing specialists who can adapt themselves to social changes and lead nursing, healthcare and welfare with the full understanding of their role.
Admissions
Expectations of our students
Having interest towards humanity and dedication to protect life and health.
Being able to understand different perspectives.
Being able to learn through relationships with others.
Having passion and willingness to contribute to community health.
Being able to logically think and express themselves.
Having basic academic skills and enthusiasim to learn.
Educational Objectives
The educational objectives are to prepare students to become healthcare professionals who:
Care for people, and deeply understand the dignity of life and human rights.
Understand themselves and build good relations with others.
Think logically and critically of a variety of facts and phenomena.
Foster applied skills and imagination to practice systematic knowledge in medical settings and researches.
Learn up-to-date nursing skills, as well as integrate theory and experience to implement appropriate nursing care.
Perform leadership and take responsibilities in promoting innovation and team work.
Understand the needs of people in local communities and provide necessary information and useful proposals.
Understand the role of nursing professionals and exercise their skills in academic and international arena.
Acquire a scholarly approach to nursing, and be able to look reflect on themselves from viewpoints of others.
¡Ê UPDATE July.2011 ¡Ë
¡ÌTo Old WebPage¡Í